Only Sound Remains
November 18, 2005 @ 8:00 pm
Event Navigation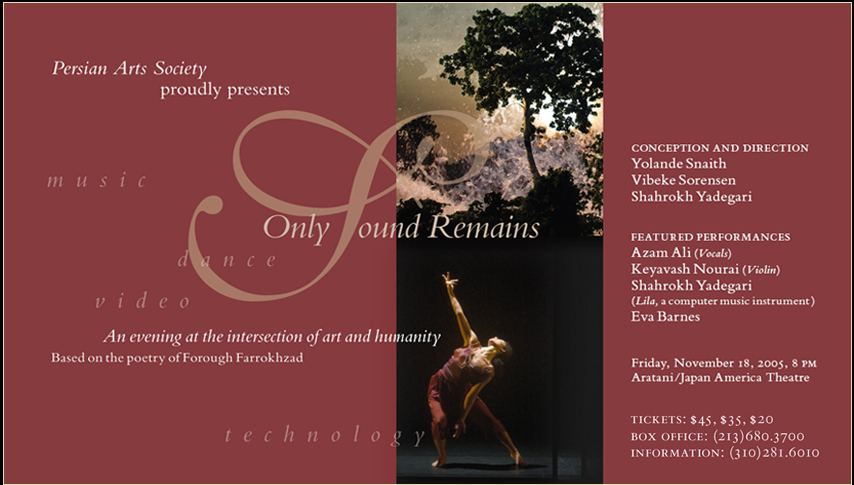 Persian Arts Society
proudly presents
Only Sound Remains
http://www.OnlySoundRemains.com
An evening at the intersection of art and humanity
Based on poetry of Forough Farrokhzad
Friday, November 18th 2005 – 8PM
Japan America Theater
244 South San Pedro, Los Angeles
directions
Box Office (Credit Cards) 213 680-3700
Information: 310 281-6010
Tickets: $45, $35, $20
Available at Japan America Theatre's Box office,
Music Box and Major Persian stores.
Box office: (213)680.3700 (Monday-Saturday. 12-5 pm)
Music Box: (310) 473-3466
QMarkert: (818) 345-4252
Super Irvine: (949) 552-8844
Information: (310)281.6010
Only Sound Remains
An Evening at the Intersection of Art and Humanity
Los Angeles—Persian Arts Society presents Only Sound Remains, a night that fuses Persian poetry with music, dance, and digital imagery. Based on the poetry of Forough Farrokhzad, this interdisciplinary theater event using cutting edge technology is conceived and directed in collaboration with Iranian-American composer Shahrokh Yadegari, British choreographer Yolande Snaith, and Danish digital artist and animatorVibeke Sorensen. Only Sound Remains premieres in Los Angeles for one night only on Friday, November 18, 2005, at 8 p.m.
Only Sound Remains is a poetic synthesis of sound, movement, text and images that journeys through the emotional, imaginative and philosophical terrain of Farrokhzad's writings and will feature the performances of the renowned world music vocalist Azam Ali, and the violin virtuoso Keyavash Nourai. Composer Yadegari's music is featured throughout the two acts, offering a richness of cultural themes with a highly contemporary aesthetic and technological innovation. Inspired by the poet, the music then fueled creative impulses for choreographic and visual creation. "We wanted to take the text off the page and onto the stage, and make it come to life, " says Yadegari, "thus expanding even further the boundlessness of Farrokhzad's poetry." In the first part of the evening, the images and music are structurally improvised. Informed by the concept of ecology, each piece of the production – from the musicians to the visual artist is working collaboratively and equally, rather than hierarchically. In the second part of the piece, the musicians, dancers and narrative weave a common poetic language. Snaith says, "Through working choreographically in response to Farrokhzad's writing, my preoccupation has been to evolve a poetic language of movement that is both derived directly from the poetry, but also grows into a moving poetry all its own."
One of only a handful of women who gained renown during the past 2,500 years of Persian literary history, Forough Farrokhzad (1935-1967) demonstrated a unique tenacity in striving for artistic freedom and individuality. Farrokhzad was a maverick, both in her poetry and in her life and lives on as an inspiration to many who are familiar with her writing. She gave voice to women in a society struggling with change while her later poetry began to address broader issues of human rights and the environment.
Almost fifty years later, her words are strikingly relevant to today's world and the perilous state of its ecology. "The scale of the imbalance and destruction of nature and humanity is now so great, so out of control. When we are out of balance with nature, we are out of harmony with ourselves," says Sorensen, who has created moving paintings from digital photographs of built and natural sacred spaces around the world.
A first-time collaboration by Snaith, Sorensen and Yadegari, the production ensemble includes Costume Designer Paloma Young, Lighting Designer Thomas Ontiveros, Projection Designer Tara Knight, and features performances by Azam Ali, Keyavash Nourai, Eva Barnes, Shahrokh Yadegari.
Only Sound Remains performs on Friday, November 18, 2005, 8 p.m., at the Aratani/Japan America Theatre (JAT): 244 South San Pedro Street, downtown Los Angeles. Ticket prices range from $45-$20. (Running time 2 hours, one intermission.) For tickets, call the JAT box office, 213.680.3700 (Hours 12-5 p.m., Mon.-Sat.) For complete event information, visit www.onlysoundremains.com.
Only Sound Remains is made possible by generous grants from the University of California, San Diego Academic Senate and the Hellman Foundation.
Persian Arts Society is renewing its long history of presenting the finest performances of Persian traditional music with a new commitment to innovative productions embracing critical approaches toward artistic production and social awareness.