Persian Arts Society is a non-profit organization dedicated to the preservation, presentation, and dissemination of Persian arts in the United States. Persian Arts Society has presented some of the most prominent musicians, dancers,and artists living in Iran and abroad, and established the first school of Persian traditional Music in Los Angeles in 2000. Persian Arts Society has also collaborated with Kereshmeh Records in production of some of the most acclaimed recordings of Persian Music for wide distribution in the Western market.
---
Persian Arts Society presents: 
The Scarlet Stone
August 29, 2015, 8PM
Royce Hall, UCLA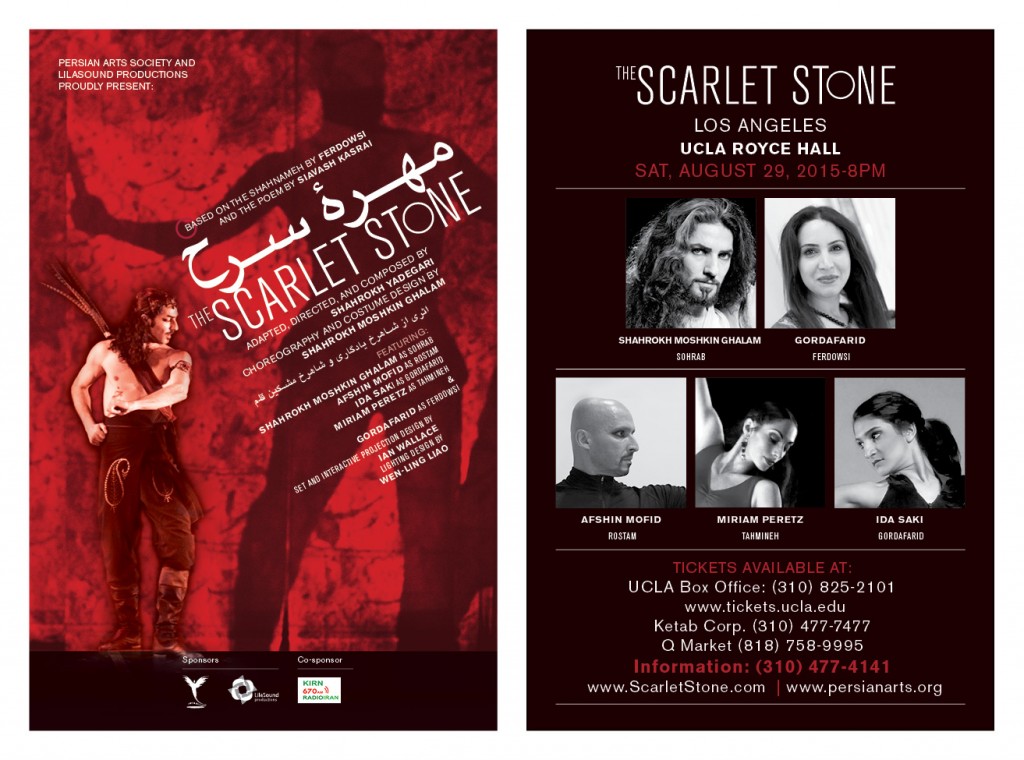 The Scarlet Stone is a multidisciplinary and collaborative music/dance/animation work by Shahrokh Yadegari, in collaboration with Shahrokh Moshkin Ghalam, featuring stunning performances by Shahrokh Moshkin Ghalam, Afshin Mofid, Ida Saki, Miriam Peretz, and Gordafarid. The Scarlet Stone is based on the Shahnameh by Ferdowsi and the last work of Siavash Kasrai, Moher-ye Sorkh (Scarlet Stone). Please read more about the cast and production here.
Bridging traditional artistic values with expressive modern aesthetics, the work uses a contemporary rendition of ancient Persian mythology by Ferdowsi and Kasrai to portray the current struggle of the people of Iran, especially those of the youth and women, in their brave quest for freedom and democracy, told in the language of dance-theatre.
Multidisciplinary and collaborative, The Scarlet Stone incorporates live interaction between music, real-time video animation, and the movement of world class dancers. In the language of dance-theatre, the work depicts the story of Sohrab (the symbol for justice and equality in ancient Persian mythology) in a modern form, who in Shahnameh is killed by his father, Rostam (the symbol of paternalistic power). The goal of the work, created by artists of the Iranian diaspora, is to serve as a catalyst for communication among Iranians, Iranian-Americans, as well as those interested in the evolution of political and social life in Iran.
TICKETS AVAILABLE AT:
UCLA Royce Hall:  http://roycehall.org/
---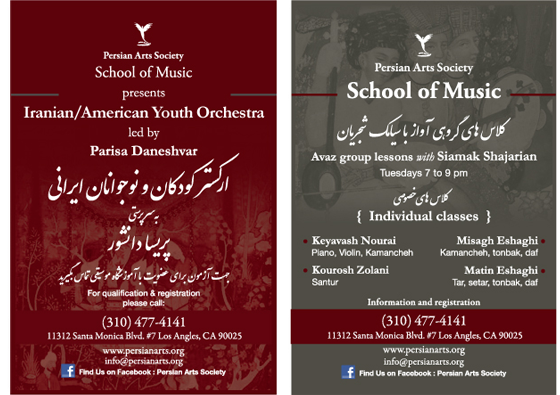 Persian Arts Society
School of Music
Avaz Group Lessons with Siamak Shajarian
Tuesdays from 7pm to 9pm
Individual Classes
Piano, Violin, Kamanche and Music theory: Keyavash Nourai
Santur: Kourosh Zolani
Tar, Setar, Tonbak, Daf: Matin Eshaghi
Kamanche, Tonbak, Daf: Misaq Eshaghi
Children Music and Ney: Parisa Daneshvar
Fees
| Individual Classes | Duration |   Trial  Session | Per Month |
| --- | --- | --- | --- |
| Once A Week | 50 Min | $70.00 | $240.00 |
| Once A Week | 25 Min | $50.00 | $180.00 |
| Group Classes | Duration | Per Session | Per Month | Trial session |
| --- | --- | --- | --- | --- |
| Once A Week | 100 Min | $40.00 | $160.00 | $50.00 |
| Group Children Classes | Duration | Per Session | Per Month | Trial session |
| --- | --- | --- | --- | --- |
| Once A Week | 75 Min | $30.00 | $120.00 | $40.00 |

Pre-registration is required
(310) 477-4141
11312 Santa Monica Blvd. #7
Los Angles, CA 90025
info@persianarts.org